Celebrating the New Year Holidays in Russia
The New Year holidays in Russia trump in importance as compared to Christmas. This fact only shows that Russia is a unique country that refuses to conform to the world's customs and standards.
Whether you're curious about the New Year holidays in Russia or plan to celebrate them in the country, this article will be your best friend. We talked about the reason behind Russia's unique New Year celebration and the traditions they follow during the holiday. We also rounded up ten New Year gift ideas you could get for your loved ones.
Why the difference in date?
Traditionally, the New Year holidays in Russia fell on March 15th under the old Roman Calendar. People at the time associate the festivities with spring and renewal.
In the 15th century, it was moved to September 1st, ending Russia's tax year. Finally, to westernize the country, the Russian ruler, Peter the Great, followed the Julian Calendar and moved the holiday to January 1st.
Bolsheviks' Influence on the New Year Holidays in Russia
Between 1919 and 1937, the Bolsheviks banned public celebrations of the New Year holidays in Russia—they called it a bourgeois holiday. The revolutionaries at the time also discouraged any religious observations. Christmas and New Year fell by the wayside as a result.
In 1935, former Russian leader Joseph Stalin's advisers persuaded him of the proletarians' need for rest and morale boost. They also realized that you couldn't easily stomp out old traditions out of people's lives. Additionally, the Russian population's spirits and trust in the government were at the lowest at the time. Hence, they restored the New Year holidays in Russia and some customs in the country—but remained secular until 1992.
Although the Russian Orthodox Church follows the old Julian Calendar, 13 days behind the new Gregorian Calendar, some families celebrate New Year on January 1st. Of course, this varies per family; most Russian households observe the holiday on January 13th.
Celebrating the New Year Holidays in Russia
New Year beats Christmas in its importance in Russia. Since Russians have two New Years, they typically observe the holidays for at least two more weeks.
For many Russian households, New Year's Day is a family holiday. While January 13th is the official start of the year—according to the Julian calendar—Russian families spend their New Year's Eve dinner on December 31st.
Dishes
Food is an essential aspect in every Russian household during New Year's Eve. A hearty spread of delicious meals usually breaks the tables during the holiday.
New Year holidays in Russia are never complete without the traditional salads like Olivier (mix of potatoes and other vegetables, mayonnaise, and meat) and Shuba (blend of herring, shredded beets, smeared with mayonnaise, and layered like a cake). A bottle of vodka and caviar as a side dish is a Russian holiday meal staple, too!
Moreover, traditional New Year's Eve meals include pickled vegetables, meat, potatoes, pelmeni, chocolate candies, and torte Napoleon. Like vodka and caviar, mandarins are a must-have on the table as Russians associate the fragrance with the New Year's celebrations.
Russians go all out on New Year's Eve dinner as they believe that a table with a delicious medley of dishes symbolizes prosperity.
National Holiday
New Year's Day is a non-religious national holiday in Russia. The government declares December 30th to 8th as a non-labor period, which means most businesses, public offices, and schools are closed during these days. The ten-day break is also part of the Russian students' winter vacation.
Symbols
Russians decorate a Novogodnaya Yolka (traditional New Year tree) with charming decorations, toys, and candies for the children.
Most Russian households also put up Ded Moroz (Grandfather Frost) in their living rooms accompanied by her granddaughter, Snegurochka (Snow Girl). Ded Moroz is the Russian equivalent of Santa Claus who gives presents.
Unlike Santa, though, Ded Moroz does not ride reindeer or slide down the chimney. He doesn't live with Mrs. Claus and the elves at the North Pole, too. Instead, he lives in Veliky Ustyug, Vologda Oblast. Nonetheless, all these are the common symbols of the New Year holidays in Russia.
Movies
Along with eating and decorating the tree, watching holiday-themed flicks at home is another part of the Russian celebrations. The Irony of Fate is a favorite classic Russian film that any pan-Russian local watches every holiday.
Family members and friends typically arrive four hours before New Year and gather around the table to watch classic Russian movies.
The President's Speech
Since 1976, it's been part of the Russians' New Year tradition to watch a pre-recorded speech given by the country's president.
The Russian leader's speech usually starts minutes before the Kremlin clock on Spasskaya tower strikes midnight—in each of Russia's time zones. It's typically a brief speech detailing the past year's achievements. At midnight, television programs play the Russian national anthem.
New Year's Eve
Once the television New Year's special is through, families congratulate each other and toast a prosperous New Year. After such, they exchange presents. Others go out to light sparklers or make a snowman in their backyards.
To do it like a true Russian, learn the local greeting: "S Novym Godom, Druz'ya!" It means "Happy New Year, friends!"
Ten New Year's Gift Ideas for Your Loved Ones
1. Measuring Cups
Babushka nesting measuring cups will be a perfect holiday gift for family and friends with a penchant for cooking.
Babushka (grandmother) figurine dolls are known worldwide for their distinctive design. And, it will be an ideal present for your favorite grandma or your friend that misses their grandma.
These measuring cups come in six sets and are BPA-free which means they don't contain toxic elements. The best part? They nest like Russian dolls for easy storage!
2. Red Moscou Rouge Perfume
Tangerines are a usual staple on a Russian table during New Year. Moms and grandmas in Russia also use tangerine-scented perfumes to commemorate New Year and every other major holiday.
If you're thinking of getting your Russian mom-in-law or the favorite women in your life some traditional perfumes, pick Red Moscou Rouge. It has an iconic aroma with notes of tangy tangerines, all bursting with zest and freshness.
3. Faberge Egg Charm Jewelry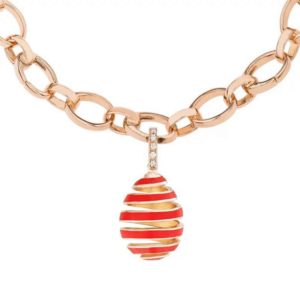 Family and friends interested in Russia's aristocrats and their prized possessions would appreciate this Fabergé Rose Gold Diamond Egg Charm as a holiday present.
This 18-karat rose gold spiral egg charm is a modern take on the Rococo Style and borrows some features of the legendary Rocaille Egg. Fabergé Easter Eggs were initially famous gifts to the imperial family, starting with Tsar Alexander III. Throughout the years, the public got interested in the opulent design and made varieties of it.
4. Moscow Mule Copper Mugs
Got a Russian loved one who misses home? Give them these Moscow Mule Copper Mugs.
Made from high-quality copper, these rose gold-colored cups are excellent at keeping any drink colder longer. Thus, it will be a fantastic present for any cocktail enthusiast.
5. Russian Lotto (Bingo)
See amusement in your loved ones' eyes when you pack this Russian lotto as a holiday present.
This lotto (bingo) game tool includes little wooden kegs, cards, and currency encased in a colorful, red Russian tin. There are varieties of games you could enjoy through this game tool, but all in all, they'll make for a fun bonding moment with loved ones.
6. Сup with Saucer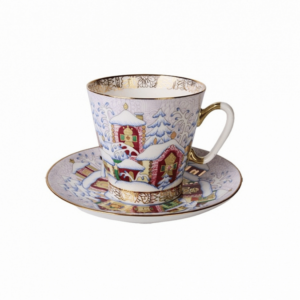 How about some hot cocoa with a cute and lovely view of the Russian winter? If so, take this cup saucer from IPM for your loved ones.
IPM or the Imperial Porcelain Manufacturer is one of Russia's oldest historical factories. They make many thematic porcelain figures, dishes, and tea.
This item belongs in the collection representing the stylization of the national art created by Russian artists of the late 19th to early 20th centuries. Handmade by Soviet artist Alexei Vorobyevsky, this cup is an impressive piece from the Bolsheviks—an item to romanticize their government.
7. Kremlin lego kit
Friends who adore Russia's history and traditions would appreciate a small copy of the Kremlin, Red Square, and even St. Basil's Cathedral in their homes. That is, of course, through a 3D architectural model.
These 3D legos should also be an ideal gift for loved ones who love seeing architecturally sound buildings worldwide. It's also perfect for those that collect 3D architectural models.
8. Faux Fur Winter Hat
Russia is the second coldest country in the world, next to Antarctica. Give this hat to your Russian loved ones that need to feel warm and stylish in winter.
This bucket white faux fur hat can cover the ears, keeping the wearer cozy and warm. Its refined detail and classy overall design will add a touch of glam to their winter ensemble.
9. Faux Fur Throw Blanket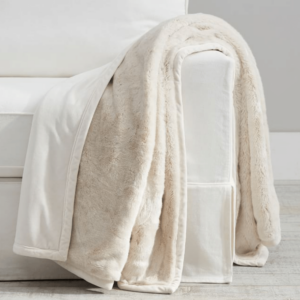 Russians love their fur. Bring some warmth into your Russian friend's winter holidays with faux fur Alpaca throws.
This faux fur has an unrivaled softness through the modern dense pile in it. The warm and enticing fabric will make your loved ones' sofa look posh when draped over. It's also perfect for snuggle days with a glass of vodka and a platter of bread garnished with caviar!
10. Glass Cooler Set
Speaking of caviar, it is a staple in every Russian household! So it is no doubt that they don't run out of caviar at home. Alongside vodka, it is a holiday symbol on its own. As such, gift a loved one this glass caviar cooler this coming New Year holidays.
This caviar glass cooler set will look lovely on your loved ones' table during New Year's Eve dinner.
Happy New Year!
New Year is any Russian local's favorite time of the year—it trumps any other holiday in the country!
We hope the facts and gift guides above helped make your Russian-themed holiday celebrations extra warm and charming. Happy New Year!